Detailed step by step tutorial on How to start a WordPress blog using Siteground as a hosting company. Get started with a self hosted blog in less than 5 minutes.
Blogging is a journey and it can reap you great profits if you are consistent, do it with passion and are truly enjoy this journey.
Blogging is not easy and it takes time to actually find yourself, find your niche, connect to your audience and slowly grow not only in writing but also understanding and using social media and marketing. But the main thing is to GET STARTED.
If you have not yet read my book on – How to start a profitable blog. Do check it out and you can read it for FREE with free kindle membership.
If you are here, I am sure you have taken a decision to get started on you journey and start a blog. I am happy that you are now going to have your own self hosted site which is a first step to monetize your blog.
Also do read this blog till the end as I have a surprise Bonus deal for you 🙂
I am glad you have chosen Siteground, it is one of my recommended hosting providers.

Its USP is mainly its Customer support. I have now built multiple sites using Siteground as a hosting provider and still counting :-)..
Lets just go through some quick facts before we get started.
Quick review of Siteground before we get started
Its one of the best hosting providers I have come across in uptime (your site hardly goes down) and support (you can chat 24×7 which is a rare thing for most of hosting providers)
So you are doing the right thing and have made a right choice.
How much does it cost to start a blog with Siteground
So the approximate cost of hosting and domain for 1 year would be around 7 dollars per month.
You will get SSL (site starting with https instead of http for free but for now let us get started
So all you need now is a domain name that you have chosen for your site and your credit card to make a payment and we will help you get started on your blogging journey.
Lets get started on How to start a WordPress blog using Siteground
Create an account at Siteground and buy domain and Hosting
First of all Click here to open Siteground in a new tab and click on Sign up
So here is the Bonus surprise for using my link. Sorry I could not wait to till the end.
If you use above link (Just click and buy without visiting any other site) for buying hosting, you can mail me your domain name and invoice at bloggingmadeeasier@gmail.com with SUBJECT – HOW TO START A BLOG and I will give you one of my POPULAR paid courses absolutely FREE.
This course has now helped multiple new bloggers gets started with an AWESOME website.

Choose a hosting plan
When you will click on above link, you will see that Siteground offers three hosting plans. Now which one is suitable for you ? I will talk about each in details and if you are just starting I would recommend to go with Basic plan (which is the cheapest) and if needed you can upgrade later.
More about Siteground Hosting plans
If you are not interested in knowing details move to next step – Getting your domain name
The Start Up Plan
In case if you are starting out go ahead with this plan. This plan offers you to host
1 website
10 GB space
Suitable for approximately 10,000 visits monthly (you can track using Google analytics or Jetpack also give an idea)
Fee auto daily Back ups
Free SSL (https in front of your url instead of http)
Free email account
Free cpanel
Grow Big Plan
In case if you have been blogging for some time and have good traffic and multiple posts and plugins. Go for this plan. This offers you
Multiple websites
20 GB space
Suitable for 25,000 visit monthly
All essential features as above (like Free SSL, Free email account, cpanel and more)
Premium features like (Free site transfer, Free backup restores, Supercacher for speed and Priority support)
Go Geek PLan
If you have website which gets good traffic and is heavy due to number of posts and plugins. This is the plan for you. This offers you
Multiple websites
20 GB space
Suitable for 100,000 visit monthly
All essential features and premium features
Plus features like staging library. You make changes in your staging website and then promote it to main website when you are ready
Choose a domain name (or mention that you already have a domain name)
Second step is to choose a domain name.
Domain name is the name of your website. Its the address or the url that you see at the top of browsers when you visit a site. For eg domain name for our site is Bloggingmadeeasier.com
If you are starting a fresh blog then choose a domain name that you want.
Some quick tips for choosing a domain name
Your domain name should be easy to remember, it should be relevant to your content, for e.g. if you write about parenting you can keep a domain name about parenting, babies, moms or parents. If you are going to use your website as a showcase of your portfolio or for establishing your name as a consultant or writer or designer. You can keep your domain name as your <name>.com.
Tip – please also check that the name you have chosen can be used for creating social media profiles and is available . For eg. I should be able to create a Fb page, Instagram profile or twitter profile with my domain name (sharingourexperiences).
That brings me to another important point please keep your domain name short. I have not been able to use my domain name for some profiles as its too long so it gets truncated for eg. on twitter I am available as https://twitter.com/sharingourexp.
So now you know this tip and can avoid this mistake.
If you are migrating from existing free WordPress blog then you probably would have though of a  domain name before and already have social media handles by that name. Please mention that here.
So select the radio button – Register a new domain, Give the domain name and click on Proceed
Enter your information
The next step is to enter your information. Enter your name, address, phone number. Register with your email id and choose your password.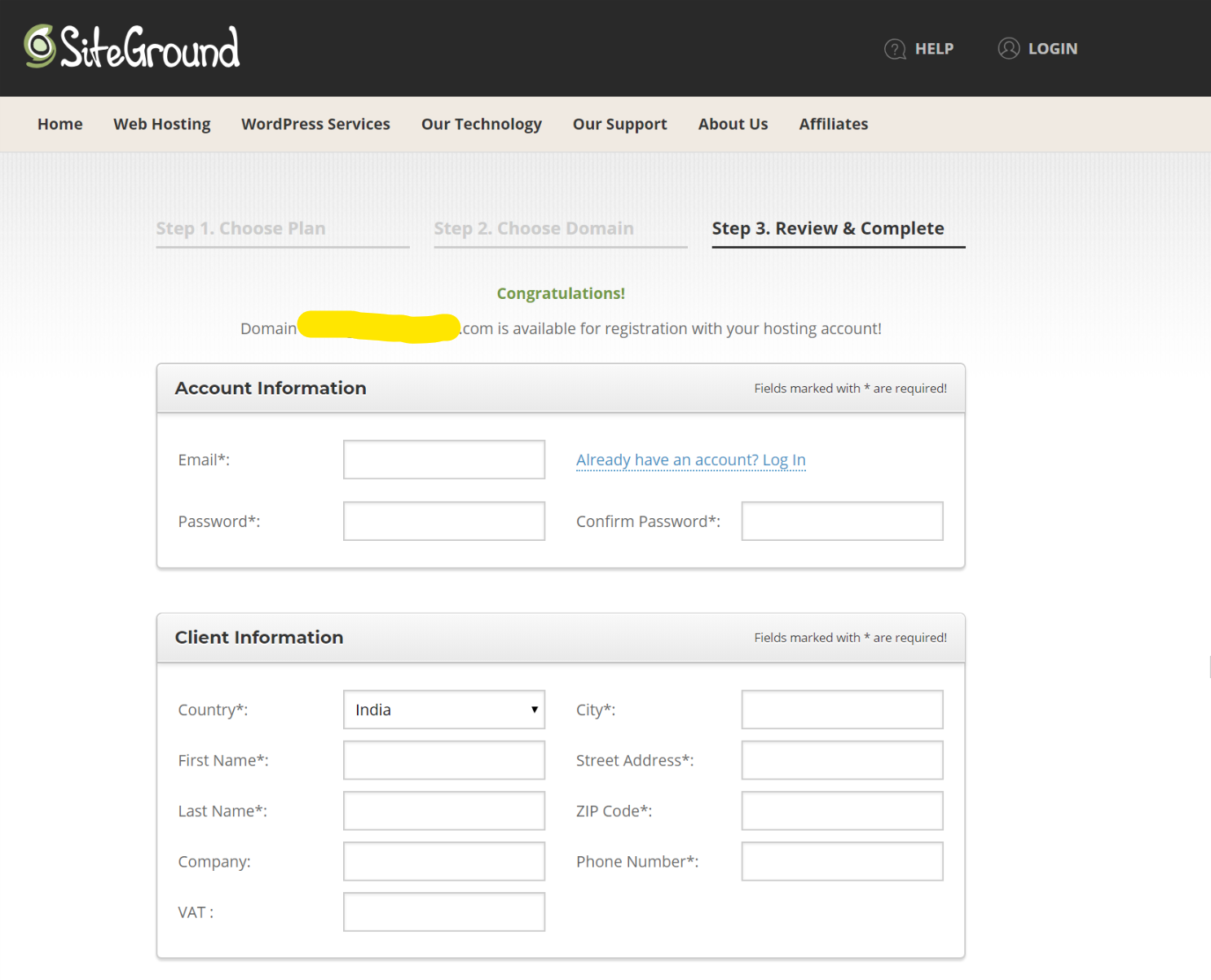 Choose period of your initial plan length
You can choose for how long you want to buy hosting. Hosting and domains are to be renewed yearly so if you can afford buy it for a longer period. Buying for a longer period means that you can get hosting at reduced discounted prices (so it turns out cheaper in the longer run) but you have to pay a considerable higher amount of money in the beginning.
For most of the new bloggers I have seen them choosing a hosting plan for one year.
You can choose hosting plan based on your budget and give your payment information.
Tips – Name on your card details should be same at the name in which you are buying a domain. Try not to use someone else's card to b

Choose whether you want extra services – (Domain privacy)
Choose whether you want extra services like Domain privacy or SG site scanner.
What is Domain Privacy ?
Domain Privacy is whether information you entered about yourself when purchasing a domain should be kept private or not. So if you choose Domain privacy – your information like Name, address, phone number will not show up when someone look at your domain information.
Domain Privacy is available at 12 dollars per year or first year. Regular price is 24 dollars per year
What is SG site scanner ?
SG site scanner monitors your site and lets you know if you have been hacked. SG site scanner is available for $19.80 per year.
Should I choose Extra services like Domain Privacy and SG Site scanner ?
None of these services are essential for your website to work. You can choose to start a blog without choosing for these services. If you can afford go for them by clicking relevant checkboxes
Click on the checkbox to accept terms and conditions and click on Pay now.
Siteground Account created and Domain and Hosting bought
Congratulations 🙂 Once you have followed above steps you now have a domain name and a hosting for your website.
Install WordPress on your site
Now we have a domain name and hosting (a place on a server where you are going to store your website). Next let us install WordPress on your site. WordPress here is a software (also called CMS – Content management software) that will help you make your website.
This is how your Siteground Dashboard looks.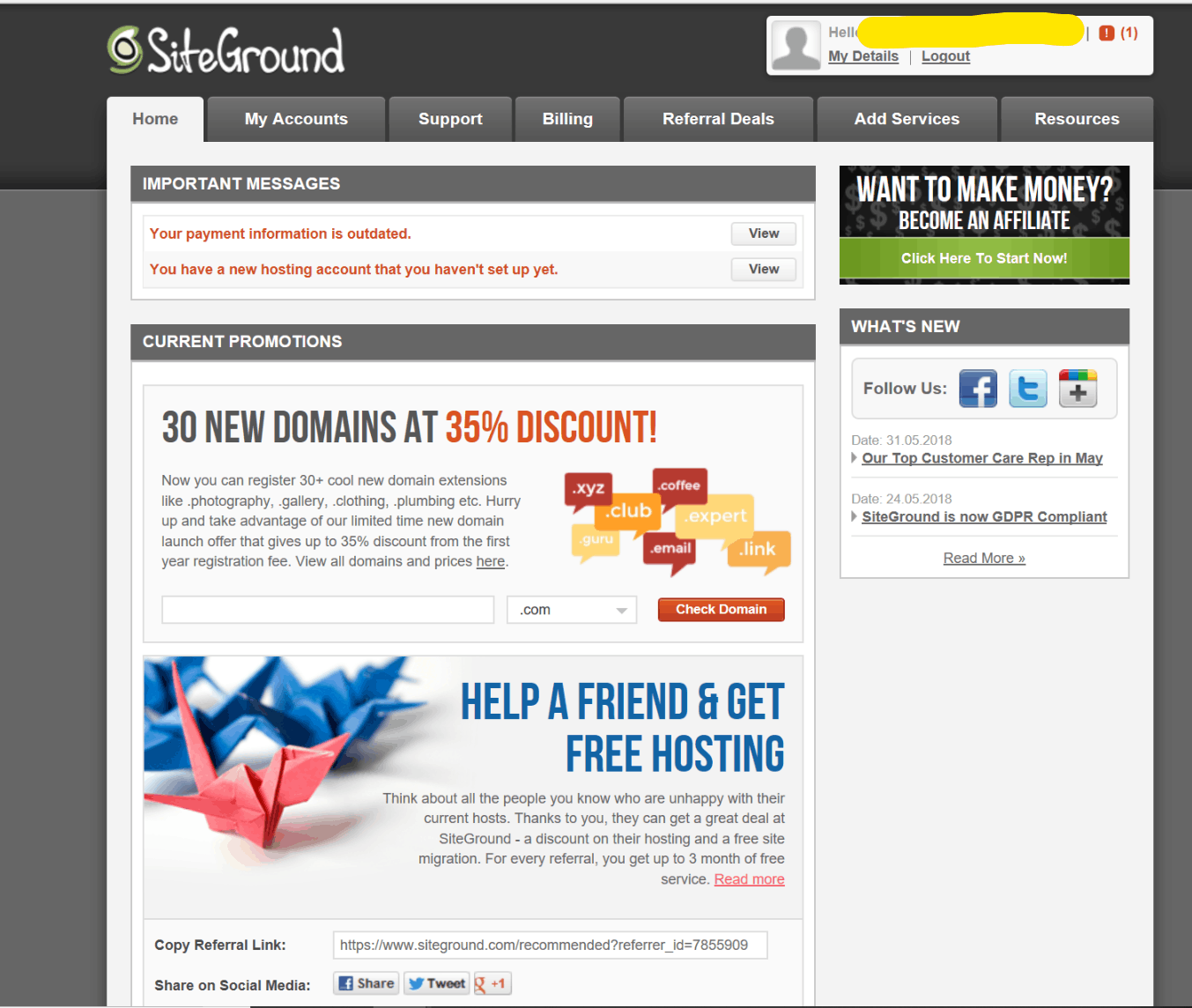 You will see a message , you have a new hosting account that you haven't set up, click on View. (Highlighted in green below)

Set up your new start up hosting account
Click on Start a new website

Choose WordPress to install as software and click on confirm

Choose your WordPress Login details
Choose your WordPress log in details. These are the user id and password that you will use to login to your WordPress site.
Once you have chosen please click on Confirm

Enhance your account
If you want you can enhance your account to add SG site scanner. we talked about what is SG site scanner before as well. I usually do not tick on these checkboxes for enhancing account.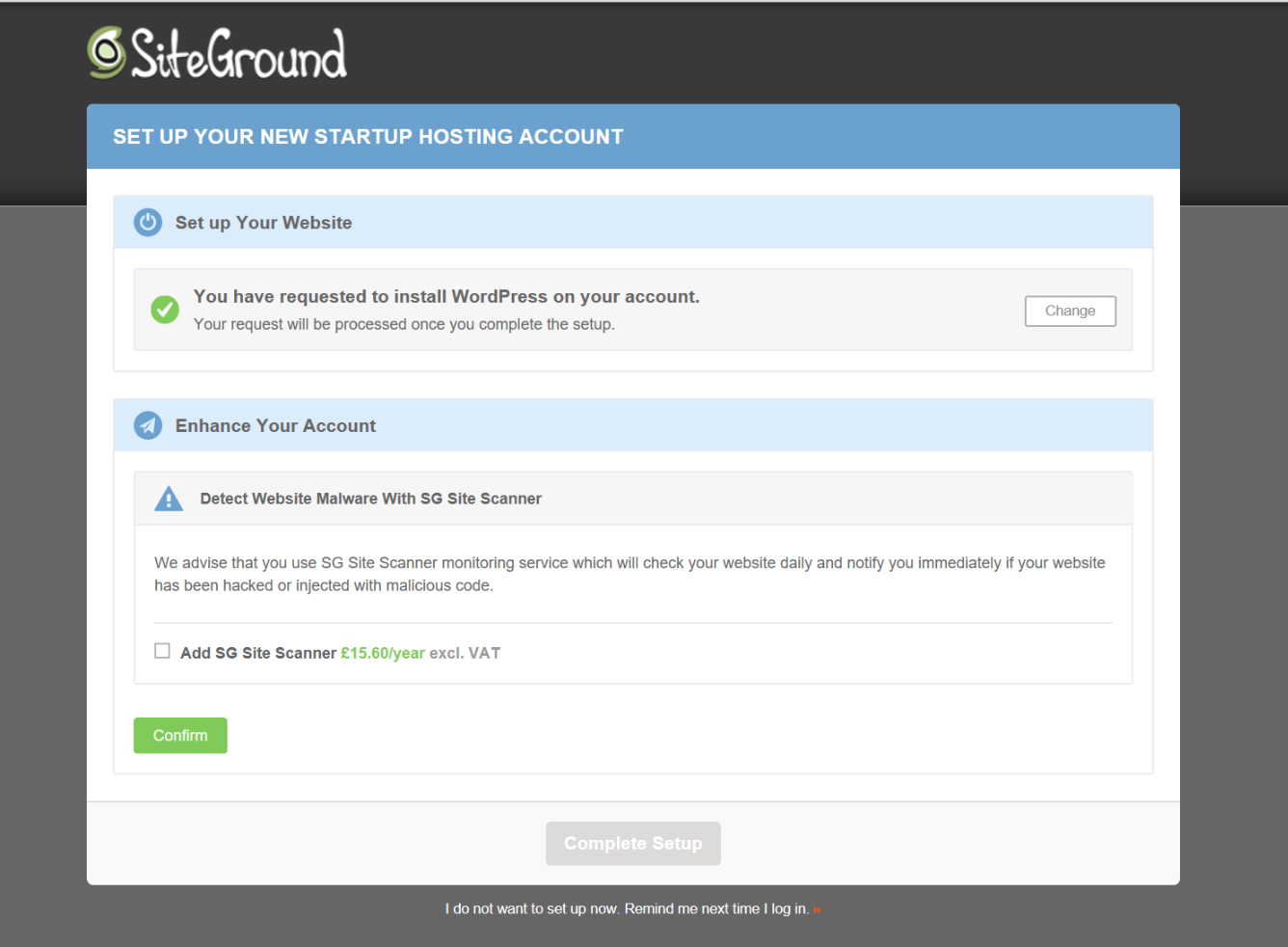 Click on confirm.
Click on the checkbox that you accept terms and conditions and then click on Complete Set up.
Your WordPress installation on your new site is complete 🙂

Access your new WordPress site and start Blogging
Well now you have a domain, hosting and WordPress on your site.
One of the frequently asked question is How do you login to your new site. Type below in your browser and you are ready to start.
<Yoursitename>/wp-admin e.g. – http://http://www.newdomainname.com/wp-admin
What do you do on your new site
Set up a theme
Set up Menu
Set up WordPress plugins
If you have a free wordpress blog, transfer data to the new site
Set up widgets
Well that's at a very high level 🙂 How to start a new blog using Siteground There are multiple steps you need to do after your website is set up.
If you have not yet read my book on – How to start a profitable blog. Do check it out and you can read it for FREE with free kindle membership.
What to do after starting a blog – how to grow your blog?
Do not worry I have you covered there as well. You can join my Grow your blog challenge and learn how to grow your blog.
Liked This Post on How to start a blog using Siteground?
You may also want to read our popular post on 10 Blogging Tips for new Bloggers
Did you like this How to start a blog beginners guide?
If you have any further queries on how to start a blog using SiteGround or any other topics that you would like us to cover please do let me know using comments below. Would love to hear from you.
Neha Gupta (Blog Coach)
I have been blogging professionally since 2014. I do not only blog about blogging. I reveal and share what I have learned by earning money from my parenting website. So that YOU do not have the repeat the same mistakes I did and can grow and earn FASTER. You can expect some honest truths here.
Want to have a profitable blog – Start here. Already have a blog – Join our FREE Grow your blog challenge
Ask me questions in my FREE Blogging group or check out my FREE video tutorials . If you are on Instagram, lets connect, Drop me a Hi, would love to hear from you.
Do not miss – Best Blogging Resources I use, avoid getting overwhelmed by the information on internet.