This step by step tutorial will introduce you to How to optimize images in WordPress for SEO. If you a new to blogging do read this tutorial, and if you have been blogging for a while but do not do this yet, avoid this blogging mistake in future.
No WordPress blog is complete without adding images. Adding images makes our blog using friendly. But there is simple technique that we need to follow when adding images. There are various aspects to optimizing images – You can optimize them for size and you can optimize them for Search engine optimization (SEO).
If you are new to this term SEO, in simple terms you can understand it as techniques that you can apply to get your blog or website be found by search engines like Google and Bing.
How to optimize your images for SEO
So lets get started with few basic tips on how to optimize your images for SEO.
When you add an image in WordPress you see these options – Title, Caption, Alt Text and Description. If you are not sure what I mean read Learn how to add images to WordPress media library.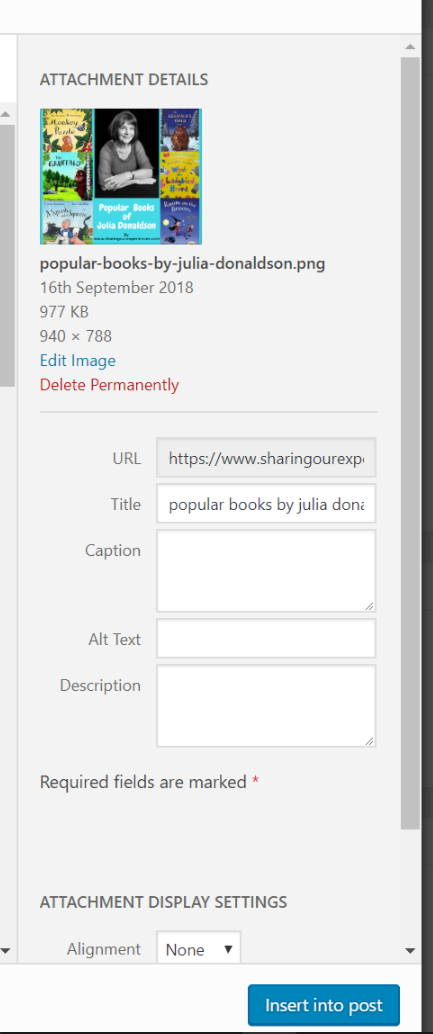 [wpsm_box type="solid_border" float="none" text_align="left"]
Title – Name of your image
Caption – What shows on the blog as image name or text
Alt Text and Description  – These two fields help Search engines understand what our images are about.
[/wpsm_box]
So what you need to do when adding an image to optimize it for SEO (Search engine Optimization)
Title i.e. name of the image should contain keywords (what are your writing about and what you want to be found for)
Alt Text and Description should again contain keywords (what are you writing about and what you want to be found for). The text here needs to explain what your image is about.
This is also good for helping people with visual impairment as screen readers can read this alt tags and title to them.
So your image would look something like below in your media library

Hope you enjoyed this easy tutorial on Optimizing images in WordPress for SEO. Do let me know if you have questions in comments. If you think this maybe useful to other new bloggers, don't forget to share.
Liked this post ?
You may also want to read about How to add Browser push notifications to your blog
Your Turn Now
In case if you liked this article do show your support by sharing this article.
[shareaholic app="share_buttons" id="27265281″]
Stay connected with us using your favorite social media, we can be found on
Do you have any queries on WordPress or if u need any help with your blog(moving to self hosting,setting up google analytics,Newsletter to name a few) you can connect with me via our Facebook group- How to make a website using WordPress, or u can mail me @ sharingourexperiencesblog@gmail.com
Add a comment
Don't you find this WordPress tips useful ? Try it and let me know using comments below. Would love to hear from you.